Spring 2010 saw Pat, now of Good Spuds begin his venture making and selling Jacket Potatoes to the people of Loughborough. Initially as funds were limited due to being a start up business he purchased a cheap pop-up gazebo to act as cover for his customers. He soon worked out that this wasn't really up to the job of being set up and taken down hundreds of times a year and began his search for a Genuine Mini Marquee.
Within a few months he had managed to acquire a second hand Classic Mini Marquee which he used for the next few years while his business and customer base grew. By the end of 2014 Pat had made the decision that he wanted expand his business by offering his services at shows, weddings, birthday parties and such like. The Classic marquee frame was still in a workable condition due to the anodised aluminium but at least 5 years of almost daily use meant the canopy wasn't suitable for taking to peoples special events, nor did it give the impression to potential customers that his jacket potatoes were of the highest quality.
The call was made to Mini Marquees who, with the help of Pats graphic designer, got the ball rolling on producing a Premium Range Mini Marquee fully branded with "Good Spuds" this included a background image of an old fashioned potato sack, with numerous layers of detailed printing on top (see image below). Within a week or so the entire design had been finalised, including half height windows in the side panels to make the seating area more appealing while still retaining an area for Good Spuds corporate branding.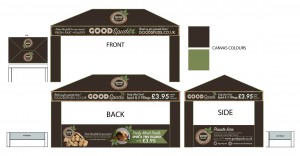 Within 3 weeks the finished Marquee was ready for collection, Pats reaction was priceless. I think he must have been impressed. The feedback we have had since the marquee has been in use has been extremely impressive, he has taken bookings for the upcoming wedding season and the increase in customers has meant he can still provide high quality potatoes while keeping his prices extremely competitive. For more information please visit www.goodspuds.co.uk
"I had Jennifer De Bethal at Jeff's Design Shop create the graphics for this gazebo and I'm so pleased I did. This is a professional product that looks the biz, I've not looked back. I stand out at shows, I blow the tired old burger vans away!! Mini Marquees have played a massive part in building up my business. A top product" – Pat Goad, Good Spuds.