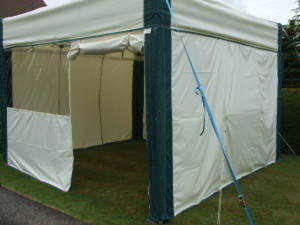 If required Roller Doors or Windows can be specified for your Mini Marquee.
Roller Doors
2 heavy duty zips allow a section of an attached side panel to be rolled up to provide
access to the Mini Marquee.
Position of the door is possible in any of the sections of the side panels, however
the large centre section is the most common option.
Windows
Transparent soft plastic windows 1m deep can be fitted into the chosen section on
side panels.
The width of the window depends on the size of the section chosen. As with Roller
Doors the centre section is the most common location for a window.
Please phone for details.